At the Office of Dr. Nicole Byrne, we are concerned about your child's total health care. Good oral health is an important part of total health. Establishing our office as your child's "Dental Home" provides us the opportunity to implement preventative dental health habits that keep a child free from dental/oral disease. We focus on prevention, early detection, treatment of dental diseases and keep current on the latest advances in dentistry for children. Our office is a place where your child will feel at home and start their journey for a lifetime of great oral health. The dental needs of children and adolescents are very specific. Our practice has the experience and compassion to tend to both aspects. We build trust and confidence with our patients as well as educate parents and caregivers- a combination that leads to fantastic results. Pleasant visits to our office promote trust and confidence that will last a lifetime. Our goal is to help each child feel good about visiting the dentist and teach them how to care for their teeth. From our special office designs to our communication style, our main concern is what is best for your child. We look forward to meeting you and your family!
---
Our Office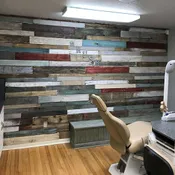 Our friendly, knowledgeable staff works hard to make your visits to our office as easy and stress-free as possible. We've provided links to helpful information about our office on this page, including directions, hours, insurance and billing, payment options and financing.
---
Your Child's First Visit
According to the American Academy of Pediatric Dentistry (AAPD), your child should visit the dentist by his/her 1st birthday. You can make the first visit to the dentist enjoyable and positive. Your child should be informed of the visit and told that the dentist and their staff will explain all procedures and answer any questions. The less to-do concerning the visit, the better. It is best if you refrain from using words around your child that might cause unnecessary fear, such as needle, pull, drill or hurt. Instead our office uses words that convey the same message, but are pleasant and non-frightening to the child.
Learn more about your child's first visit
---
Our Pediatric Services
It's never too early to get your child started on the path toward a lifetime of good oral health, and there are many services we provide to do exactly that. Monitoring your child's dental growth and development, and preventing and intercepting dental diseases along the way, is a primary focus of our practice.
According to the American Academy of Pediatric Dentistry, a child's first checkup should occur by age one. At this important visit we will check the baby teeth for early cavities, show you how to care for a young child's mouth properly, go over your child's developmental milestones, and discuss the importance of good oral hygiene.
Oral Hygiene Instructions
Fluoride Treatments
Sealants
Space Maintainer
Bonding
Composite Fillings
Pediatric Crowns
Pulpotomy
Extraction
Limited Orthodontics & Evaluations
Mouth guards
Sedation Dentistry