Dear First Time Families:
We are delighted you have chosen our team to provide your child's dental care. We are not your typical dental office…as specialists in dentistry for children; our approach may be different from what you are accustomed to experiencing at a general dentist's office. The following information will help you and your child prepare to have a fun and informative visit!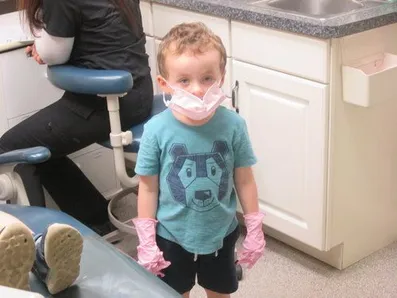 A parent or legal guardian must be present for the initial appointment. We invite you to stay with your child during the initial visit. This is a great way for you to see our office and team in action. We want to build trust with your child through age appropriate terminology, friendliness, compassion and consistency.
Our goal for the first visit is to provide parents with "anticipatory guidance" concerning dietary habits, brushing routines, fluoride exposure and answer any questions you have. We will review your child's medical history, do a thorough exam and assess your child's teeth, gums, head, neck and developing bite.
During the first visit we perform an exam and take x-rays if necessary. This helps build a relationship with you and your child. Our goal is to introduce dentistry in a fun, non-threatening manner. If your child has any treatment needs, future visits will be based on the positive foundation built from the initial visit. There are many books (Berenstein Bears Visit the Dentist, Rabbits First Tooth, Show Me Your Smile: A Visit to the Dentist, etc.) which can be read to your child or a story line similar to the example below can be used to tell them what to expect:
"The dentist will help you keep your teeth healthy. The dentist will count your teeth and make them sparkle with a special toothbrush. They might take some pictures to see inside your teeth and will give you a new toothbrush to keep them clean. Afterward you get a goodie bag and choose a prize!"
-Please do not threaten a visit to the dentist as punishment. Instead, help your child understand that healthy foods and brushing keeps their teeth healthy and strong.
-If you are bringing non-appointed children, we ask you to bring another adult with you. Siblings may be asked to remain in the reception area.
-Please arrive about a few minutes before your scheduled appointment so we might answer any questions you may have prior to seeing your child.
We strive to provide the highest quality care for you and your child. We look forward to meeting your family. Please contact us if you have any questions.
To save you time we will send you the new patient paperwork to fill out electronically prior to your first visit.
Thank you!
Dr. Nikki & Staff